News, sport and opinion from the Guardian's global edition
New South Wales residents prepare for catastrophic fire conditions as dozens of bushfires continue to burn along east coast

Former president says it hurts to leave 'for political reasons' as foreign minister confirms he has left for Mexico
Brexit party will not contest Conservative seats but source says it will pursue Labour-held ones

Jury in murder trial told UK backpacker died from manual pressure to neck that was forceful enough to cause bruising
Leftwing actor has told how her view of the monarch changed having played her in The Crown

President of Greece hails 'new chapter of decisive importance' as ties are deepened – but Europe and US wary of Beijing's agenda
Hundreds of votes were cast in Russia, but organisers say the email addresses appeared to be legitimate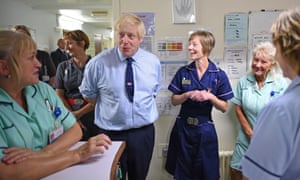 Sarah Boseley and Denis Campbell discuss the extent of private company involvement in the NHS, one of the key battleground issues of the general election. Plus: Dan Collyns on the downfall of Evo Morales in Bolivia

Spaniards want politicians who will listen and compromise, says Madrid-based historian Giles Tremlett
Raheem Sterling has been dropped for the Euro 2020 qualifier against Montenegro after a 'disturbance' at St George's Park
The defender on how Diego Costa created his nickname at Atlético Madrid, what went wrong at Tottenham and missing the darts
Socialists will not join forces with arch-rivals PP after failing again to secure majority

James Le Mesurier, who set up Syrian rescue group, reportedly fell from balcony

Former US president 'resting comfortable' ahead of procedure on Tuesday, spokeswoman says

Max Vredenburgh says he put letter in bottle in north of Boston in 2010 – and got a response from G Dubois, who found it in October
Song titled Things Get Worse said to have been recorded for Eminem's 2009 album Marshall Mathers

Two years after Last Week Tonight was sued by a coal executive for critical coverage, Oliver addresses the 'scourge' of Slapp suits

The Canadian songwriter is pursuing dual citizenship in order to 'vote my conscience on Donald J Trump' in the 2020 election
After commissioning an artist to paint me, I see the profile I've always hated very differently. The experience has shifted my whole perspective on beauty
Over two days, men and women marched 26 miles to New Orleans to mark an overlooked uprising against slavery's brutality – and pay tribute to those who fought for freedom

Industries such as coffee and cacao have devastated the jaguar's habitat, but its dwindling numbers leave a delicate ecosystem hanging in the balance

A team of doctors and volunteers are travelling by boat to treat and educate indigenous communities at higher risk of Aids
Wherever you are in the world, this week we'd like to see your pictures on the theme 'glory'


Supporters from South Africa and England are considerably happier than their counterparts in Ireland and Georgia

We're highlighting the best reader photography in print in the letters pages of the Guardian. Share your images with us here

If you work for a fossil fuel firm, we'd like to hear from you. Is there enough recognition within the industry about its impact on climate change?
The Guardian's picture editors select photo highlights from around the world

Climate Visuals is a project that aims to create a new visual language for climate change that conveys the urgent human stories at the heart of the issue. It has recognised existing and outstanding images with impact for its inaugural photography awards
Photographer Chris de Bode, working with Save the Children, decided to try to capture a dream in a photo

Photographer Medina Dugger captures a playful mood in Nigeria's largest city

Photographer Louise Cooper accompanied a team led by researcher Dr Rachael Gray as they travelled to Kangaroo Island in South Australia to treat sea lions infected with hookworm with an anti-parasitic


Day of the Dead in Mexico, protests in Chile and Iraq, South Africa celebrate winning the Rugby World Cup and the New York marathon – the best photography in news, culture and sport from around the world this week